• magical wedding • romantic wedding • unique ideas • winter wedding • winter wedding ideas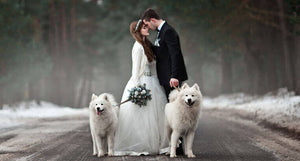 The season of winter weddings will soon be opened. A winter wedding can be terrifically glamorous, romantic and magical with the right elements. Get in the mood with these ideas to inspire your winter themed celebration.   1) Seasonal Paperie Showoff the season with a winter themed invitation.   2) Festive Signboard Romantic signs for your ceremony and reception, a reminder of the winter season.   3) Rustic Decorations Nature will always be welcome at any wedding. Cinnamon sticks and tree slices are inexpensive ways to add holiday spirit to your winter-inspired nuptials. Add a sprig of rosemary or fir...
---
If the wedding dress makes the wedding, then the bridal jewelry makes the dress. No wedding dress is complete without some jewelry. Here is some tips on how to choose the perfect wedding jewelry that will enhance your wedding ensemble.   Complement your neckline. The neckline of your gown will guide you towards what style of necklaces you should wear. For a bustier or strapless gown, choose a choker or a large statement necklace that grazes the collarbone in order to fill in more skin so that you don't look too bare. Another option is to skip the necklace and...